EMO Systems wants to be plastic-free!
September 19, 2018
The EMOSAFE EN-70e network isolator in hifi test
July 19, 2019
Several weeks have passed since our announcement of our intention to become plastic free.
What's the current situation?  The first goal is to make our shipping packages 100% plastic free.  We have found numerous alternatives to conventional plastic packaging.  After testing and verifying some of the products that meet our quality standards, we are happy to announce that our shipping packages are 100% plastic free – from delivery notes to packing tape.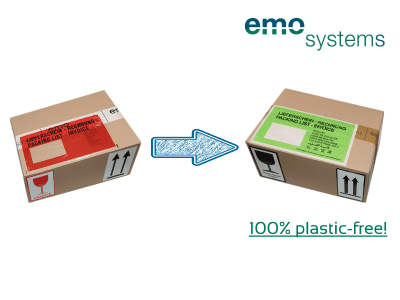 Through this, we now already avoid creating a huge amount of plastic waste.  Of course, we have further goals in mind.  For example, to make the packages over 5kg plastic-free. At the moment, this is not possible because the plastic-free tape is too weak for these packages. Here we are already looking for a solution.
Continue to follow us on our journey to protect the environment and become plastic free!